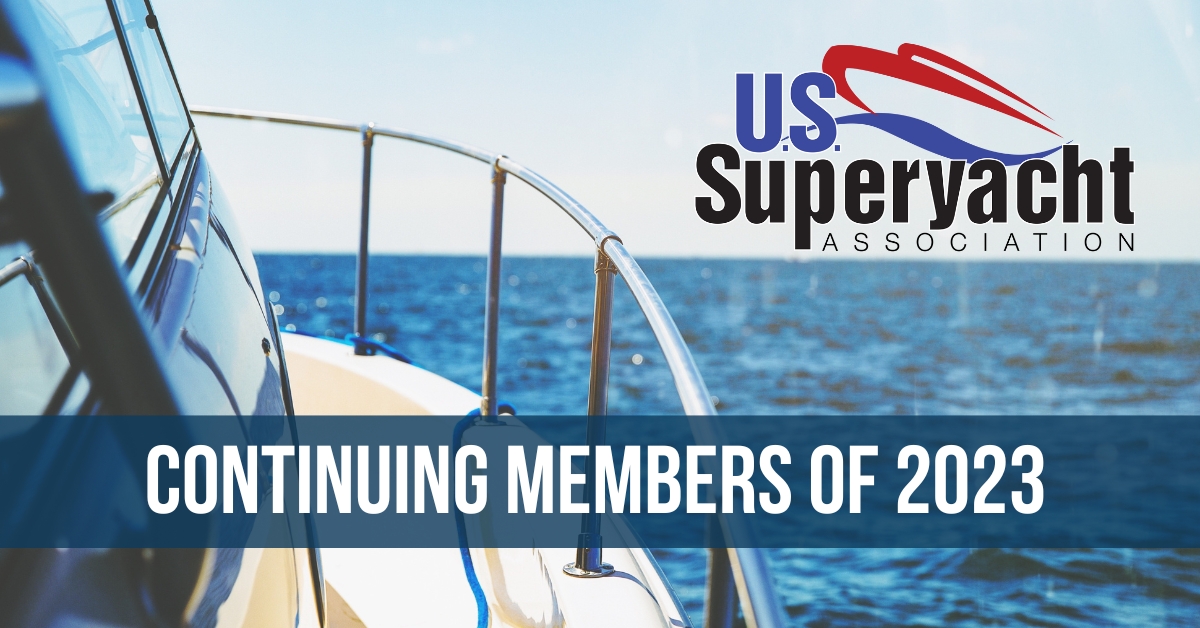 Thank you to all of our renewed U.S. Superyacht Association members!
We are sincerely grateful for your renewed membership and ongoing commitment to our association. Your presence is vital to our continued success. As we embark on another year together, we look forward to supporting your journey in the superyacht industry.  Please note that membership renewals are on a rolling system based on the month you joined, so if you do not see your name here and you have renewed it may have just missed the timeframe of this group.
ABBRA – American Boat Builders
Advanced Mechanical Enterprises (AME)
AERE Marine Group 
Akerman LLP
Alexseal /Makiewicz
Alley, Maass, Rogers, & Lindsay PA
American Vessel Documentation Association (AVDA)
AMG Insurance International LLC
Aquazeal LLC
Association of Marina Industries
Association of Yacht Service Support
Atlas Marine Systems
AvMar Marine Glass Inc.
Boat International Media
Boksa Marine Design, Inc.
Boston Yacht Haven
Bradford Marine
Broward Shipyard
Burger Boat Company
C2C
California Yacht Brokers Association (CYBA)
Cayago Americas Inc.
Cayman Islands Shipping Registry
Chubb
Compass Marine & Logistics LLC
Concord Marine Electronics
Crow's Nest Yachts
Crown Wine and Spirits
Curtis Stokes & Associates
Denison Yacht Sales
Derecktor Shipyard
Dockside Corporate Services, Inc.
e3 Systems U.S.
Echo Yachts
Edgemarks, Inc.
Elliott Bay Marina
EnerYacht LLC
Engineering Concepts
Everglades Diesel
Fairhaven Shipyard Companies, Inc.
Front Street Shipyard
Global Satellite USA
Handcraft Mattress CO
Headhunter, Inc
Hendry Marine Industries, Inc.
Hill Robinson
Hodgdon Yachts
Intellian Technologies
International Superyacht Society
International Yacht Brokers Association
Island Global Yachting
IsoFlex Technologies International, Inc.
Isotropic Networks, Inc.
J.P. Reynolds Company, Inc.
Johnson Electronics and Machinery
Legend Yacht Transport USA
Lewis Marine Supply
Lumishore USA, LLC
Luxury Sales Group
Marina Costa Baja
Marina Mile Yachting Center
Marine Group Boat Works
Marine Group Boat Works
Marine Industries Association of Palm Beach County (MIAPBC)
Marine Industries Association of Palm Beach County (MIAPBC)
Marine Industries Association of South Florida
Marine Max Yachts
Marine Search Associates
Marine Trades Association of Maryland
Maritime Professional Training
Maritime Security Council
Marshall Islands Yacht Registry/ IRI
Megafend
Megayacht News
MHG Insurance Brokers
Moore & Co  PA.
Morsel Munk
MTU America, Inc.
National Marine Manuf. Assoc (NMMA)
Nautical Structures
Network Innovations US
Newmil Marine
Norton Lilly International (Panama)
Ocean Dreams Yachting
Oversea Yacht Insurance
Pacific Yacht Management
Peninsula
Performance Power Systems
Pier Sixty-Six Hotel & Marina
Platypus Marine, Inc
Port of Port Angeles
Puerto Varas SA DE CV
Quantum Marine Stabilizers
Reardon Yacht Consulting LLC
Rhode Island Marine Trade Association (RIMTA)
Rivergate Marina & Shipyard
RMK Merrill – Stevens
Romora Bay Resort & Marina
Roscioli Yachting Center
Safe Harbor Lauderdale Marine Center
Safe Harbor Marinas
Salmon Bay Marine Center
Salmon Bay Marine Center
Salmon Bay Marine Center
SCH Yachts
Sea Hawk Premium Yacht Finishes
Seaton Yachts
SF Marina Systems
Shelter Island Marina
Siebert Yacht Management
Spectro | Jet-Care
Studiorod
Studiorod
Super Yacht Group Great Barrier Reef
Superyacht Australia
Superyacht Builders Assoc. (SYBASS)
Superyacht Sales and Charter
The Superyacht Group
Thomas Marine Systems
Total Marine Solutions
Triton Technical
United Island & Yacht
Vineyard Haven Marina
Ward's Marine Electric, Inc.
Westport LLC
Westrec SMI
Willis Marine
Winterfest
WorkOnAYacht.com
Yachting Magazine
Yachting Today.TV
Yachtronics
Yachtsmyth, LLC
YATCO
Zeidel & Co.