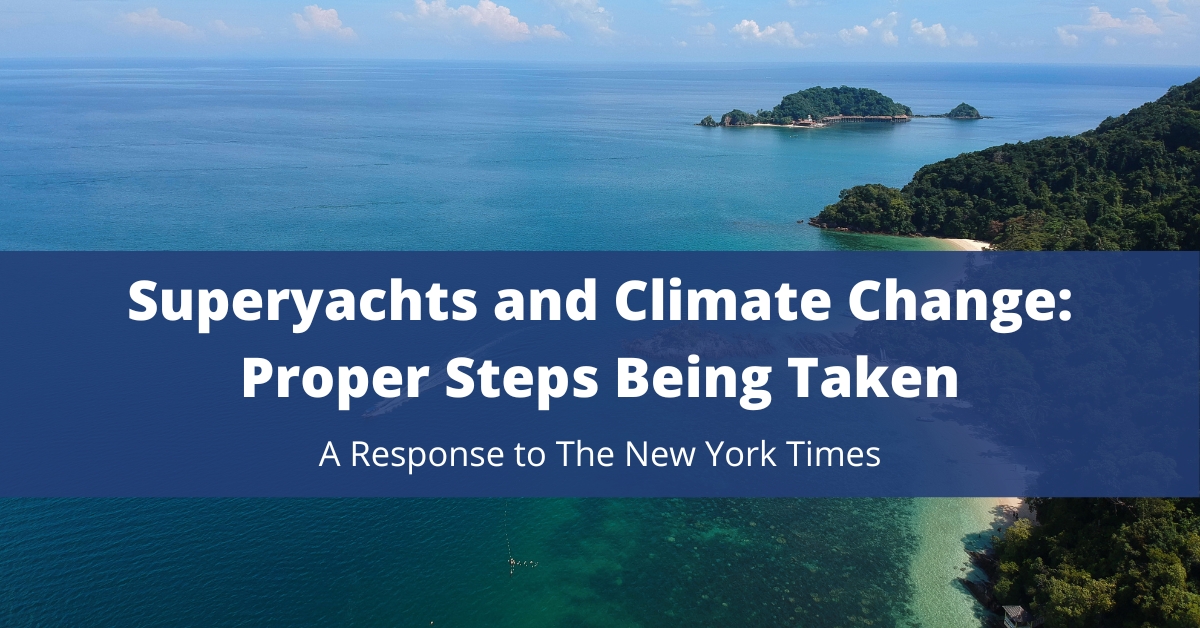 Recently The New York Times published "The Superyachts of Billionaires Are Starting to Look Like Theft," an opinion piece by Joseph Fassler. Fassler argues that owning and cruising aboard superyachts "is probably the most harmful thing an individual can do to the climate." He adds, "If we're serious about avoiding climate chaos, we need to tax, or at the very least shame, these resource-hoarding behemoths out of existence."
We at the U.S. Superyacht Association, and the yachting industry at large, are well aware that alternatives to fossil fuels and combating climate change are necessary. In fact, we agree with Fassler's assertion that disproportionate emissions make people angry. However, further asserting that an entire lifestyle should be shamed out of existence is not the solution. It will only serve to eliminate millions of dollars of economic impact for a host of businesses outside of yachting, including the small businesses in many Times readers' own neighborhoods, plus put thousands of highly skilled welders, engineers, and more on the unemployment line—some of the last manufacturing craftspeople left in America. Equally important, his assertion that "superpolluting yachts and jets don't just worsen climate change; they lessen the chance that we will work together to fix it" overlooks the facts that owners, shipyards, naval architects, and suppliers are all indeed working together to fix it.
A superyacht supports millions of dollars of salaries outside of yachting. The Fort Lauderdale International Boat Show (FLIBS), the world's largest in-water boat show featuring hundreds of superyachts, generates significantly higher annual economic impact than the Super Bowl. Cities nationwide seek to host the Super Bowl because the NFL pledges an extraordinary economic impact of $300 million to $500 million. An independent study of FLIBS' economic impact in 2021, the most recent data available, reveals that it contributed $1.79 billion to Florida's economy. Within that figure, an average of $241 per day came from 49,000+ out-of-town visitors spending on hotels, restaurants, retail,
and local transportation. Additionally, FLIBS generated nearly $86 million in state and local taxes in Florida, $24.5 million alone in Broward County.
From welding to pipefitting and custom carpentry to marine structural engineering, robotic arms don't exist in yachting. In fact, superyacht construction is hand-manufacturing (read jobs). In terms of wages, to use one state example, the Tri-County Florida marine industry of Dade, Broward, and Palm Beach has an estimated economic impact of $12.5 billion in gross output, supporting approximately 149,000 jobs. Compare that to the cruise ship industry, which generates $8.06 billion in wages and supports about 159,000 jobs. Additionally, as one of the region's leading economic drivers, yachting pays 28 percent higher wages and salaries than the Florida average.
Shaming superyachts out of existence additionally means that scientists studying climate change lose an essential piece of the puzzle for their groundbreaking research: vessel access. Similarly, coastal communities devastated by natural disasters lose some of the very first emergency responders. Scientists regularly cannot afford to rent a vessel, whether a dedicated research platform or commercial ship, to head out on the oceans. The non-profit International SeaKeepers Society, which has the backing of preeminent oceanographers like Dr. Sylvia Earle, pairs them with yacht owners, who host them for free. Over the past nine years, SeaKeepers has enabled more than 150 scientist-led expeditions, some of which have contributed to international climate regulations. Similarly, the non-profit YachtAid Global has mobilized upwards of 300 superyachts in more than 25 countries since 2006 to deliver humanitarian aid to coastal communities in need or impacted by natural disasters, collaborating with a global network of volunteers, vetted NGOs, and disaster-relief experts. These superyachts and crews are frequently among the first to provide lifesaving first-aid and potable water, especially in remote regions.
Fassler goes on to write, "Research in economics and psychology suggests humans are willing to behave altruistically—but only when they believe everyone is being asked to contribute. …When the ultrarich are given a free pass, we lose faith in the value of that sacrifice." Asserting that superyacht owners aren't contributing is either due to a lack of research or deliberately disingenuous. In fact, shipyards and designers will readily tell you their clients are pushing for more sustainable propulsion systems and operations, and they themselves are educating more owners about cleaner alternatives. Dating back to 1997, with the launch of the 315-foot Limitless for American businessman Leslie Wexner, owners have been taking delivery of hybrid yachts as a first step. The vessel-classification society RINA launched its Green Star notation for superyachts in 2007, allowing voluntary compliance with stricter limits on greenhouse gas emissions than international rules mandated. Green Star's successor, Green Plus, is requested by about 80 percent of RINA-classed yachts exceeding 131 feet. Builders like Burger Boat Company recently participated in the construction of two passenger vessels incorporating an all-electric propulsion system, thus proving the possibilities to yachting clients. Lürssen, meanwhile, is building the world's first fuel-cell powered yacht, confirmed technology producing zero emissions. Bill Joy, the Silicon Valley visionary, actually commissioned his 190-foot sailing yacht Ethereal back in the mid-2000s to employ fuel cells, but since they weren't yet available, he put batteries aboard instead, with the intention to retrofit the yacht when the technology advanced.
If Fassler had done his homework, he'd know all of this. He'd also know that superyacht owners and the superyacht industry agree with his statement, "Even small victories challenge the standard narrative around climate change." The standard narrative around superyachts is that no one cares about climate change, which couldn't be further from the truth. We at the U.S. Superyacht Association extend him, and other journalists, an invitation to a conversation. We can connect you to builders, designers, suppliers, and owners who have been taking—and continue to take—proactive steps. Their collective passion for pushing technology and driving change deserves more recognition.