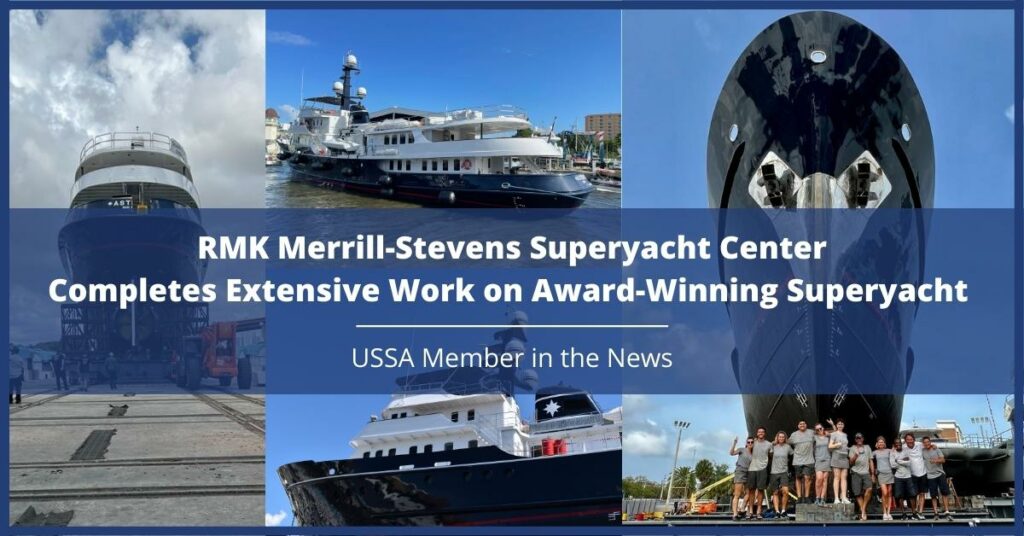 Asteria Returns to the Water: RMK Merrill-Stevens Superyacht Center Completes Extensive Work on Award-Winning Superyacht
(MIAMI, FLORIDA) Florida's first and most historic shipyard, RMK Merrill-Stevens, recently bid farewell to the award-winning superyacht charter Asteria after completing extensive work on the 161-foot vessel. The yacht, which is currently cruising waters around Greenland as part of an expedition organized by the
Oceanographic Museum of Monaco, was gently put back into the water via the RMK MS 2,700LT Pearlson ship-lift. Work on the vessel concluded in July, and encompassed multiple upgrades and repairs, and included more than a dozen strategic partners.
Once a salvage tugboat, the 161' 1970 Anastassiades & Tsortanides Greek built vessel underwent an integral conversion in 2002 and emerged as a private yacht. After arriving at RMK Merrill-Stevens, Asteria was named the 2022 BOAT International World Superyacht International Voyager Award winner. "The
award is a testament to the vessel's capability to cruise anywhere," says RMK MS Superyacht Center Project Manager Gilius Grutterink. "It truly is a special, one-of-a-kind superyacht."
Asteria visited the RMK Merrill-Stevens Superyacht Center, formerly known as the RMK MS North Yard, in early 2022. Work completed on Asteria was categorized as Lloyds Register Survey and non-Survey works, which was managed by Gilius. The scope of work included scaffold and containment for media blasting of bottom paint and primer coatings to steel, and re-application of a new paint system, driveline work, including shaft straightening, propeller balancing, rubber design thrust block and shaft coupling overhaul, Wartsila Shaft Seal replacement, rudder and steering works, Propspeed application to propeller, replacement of all skin valves, Caterpillar main engine overhaul, ZF Marine gear service, extensive steel repairs on shell plating and tanks, HVAC services, electrical repairs and maintenance, replacement anchors, bridge electronics service and upgrades, Palfinger crane repairs and recertification, external paint works, and more.
The project presented several unique challenges to Gilius and the RMK MS team, including welding extra steel supports onto the hull to accommodate shell plate repairs. "The entire time I had the feeling that the yard, our team of technicians, sub-contractors, venders, and the vessel crew, was there to assist me
to ensure the standard or workmanship, and timeline was met. Captain Franck Catsuris was great to work with," says Gilius.
"This was one of RMK MS Superyacht Center's biggest projects to date, a great experience for everyone involved," states Gilius, who joined RMK MS in May of 2021. Gilius helped organize the team of more than a dozen RMK MS partners who assisted on Asteria. Partners included Datum Rotating Machinery Services, All Tank Services, KPT Marine, Thomas Marine Systems , Marina Mile Tank Cleaning, Hartmann Bros Marine, W&O Supply, All Points Boats, Palfinger Marine USA, Mclaughlin Marine Electronics, Fusion Powder Coating, USA Shrinkwrap Solutions, Reliable Marine Engineering, Global Yacht Fuel, Pantropic Power, Elite Marine Canvas, and Merritt Supply. Asteria is currently available for charter and is specifically designed to travel nearly anywhere in the world safely and comfortably, including the North and South Poles. The RMK MS team would like to thank partners and the Asteria ownership team,  captain, and crew for working with RMK Merrill-Stevens on this historic project. To schedule your vessel's visit to the RMK Merrill-Stevens Superyacht Center or South Yard, request a quote today at rmkmerrill-stevens.com/request-a-quote.
###
For more information about RMK Merrill-Stevens call 305-324-5211, or to learn more about RMK MS's world-renowned shipyard, visit rmkmerrill-stevens.com. Keep up with RMK MS on social media through Facebook, Twitter, Instagram, and LinkedIn.