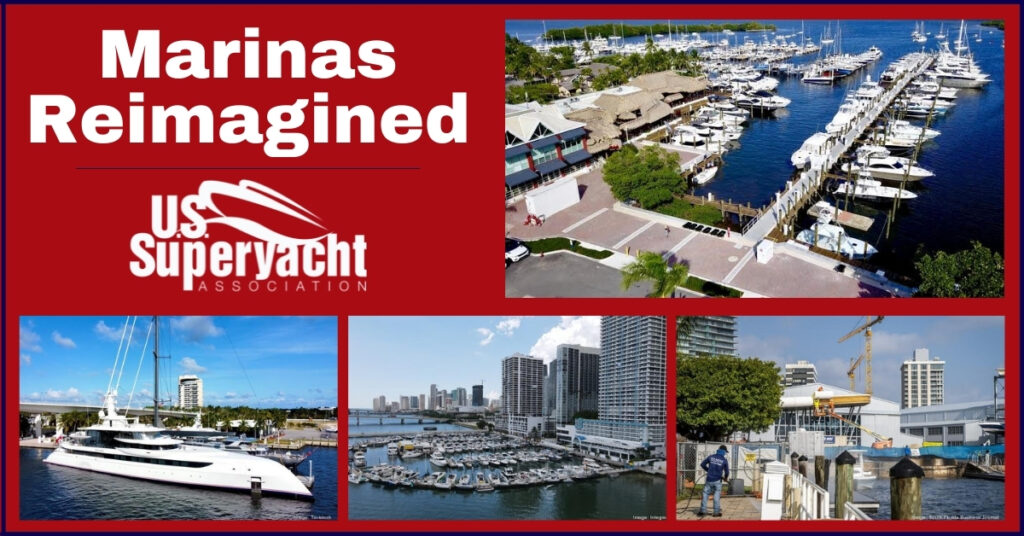 Gone are the days when placing a dock on the water was enough to lure boaters to marinas.
Many South Florida marinas find that adding extra services and features such as restaurants, shops and crew lounges is key to luring – and keeping – customers. The efforts are deemed essential in an area often referred to as one of the yachting capitals of the world.
It's one of the main reasons more marinas in the tri-county region have recently undergone renovations. Boat owners who spend big dollars on their vessels don't want to dock at a marina without essentials like strong electric power and a fun atmosphere. Other services, especially restaurants, contribute to that by creating additional revenue sources for marina owners.
One of the most prominent examples of this is the Yacht Haven Grande Miami at Island Gardens, a superyacht marina on Watson Island that features a luxury restaurant called The Deck.
"It's all about making the customer's journey easier," said Bert Fowles, VP of marketing for Island Global Yachting, a New York-based company that manages Yacht Haven and other superyacht marinas. "The tourism product needs to have a symbiotic relationship between the upland and the water."
Many of the superyachts have dozens of employees who work onboard and often stay with the boats while they are docked. Yacht Haven has a crew lounge with ping pong tables that's also used to store provisions. The marina will also provide owners with concierge-style service.
"You win the economic lottery with every superyacht that arrives at your destination," Fowles said. "A vessel owner spends about 10% of its value on goods and services every year to maintain it."
Yacht owners frequent The Deck restaurant and often invite friends from Miami to meet them there, Island Gardens co-owner Bahar Bayraktar said. But the 500-seat restaurant by no means depends on the marina for most of its business. It boasts many patrons because of the great view of Biscayne Bay, and the ambiance of having megayachts dock there, which enhances the dining experience, she said.
Andrew Doole, the Fort Lauderdale-based president of U.S. boat shows for Informa Markets, which puts on three major boat shows in South Florida, agrees that marinas with eateries create a yacht club-type social experience where customers can dine and drink with friends.
Marinas that are part of hotels or in downtown areas with many restaurants may not need a dedicated eatery, but other marinas are adding or enhancing their hospitality offerings to remain competitive, Doole said.
The Town Marina, operated by the town of Palm Beach, is reopening Nov. 1 following a year and a half of renovations that cost $40 million. Mike Horn, the marina's dockmaster, said restaurant and hospitality services weren't necessary because the marina is near the public Mandel Recreation Center. The important features that boaters wanted were improved shore power on the docks to support larger vessels, a higher sea wall, floating docks and an upgraded captain's lounge, he added.
The town took out a loan for the project, but the increased marina revenue from the improvements should be more than enough to pay that money back, Horn said.
"It's definitely going to be very busy," he said. "We are currently at 82% occupancy for this season with deposits, and all 125-foot and under slips have deposits."
Julie Berry, a marina specialist with CBRE, said most marinas don't have enough upland space to build a big restaurant. But there's strong demand for boat slips, so those under redevelopment will often try to add slips above everything else. However, if there is enough land for a restaurant, it's a great amenity for the marina, she said.
"If it's a large marina or boatyard, then a restaurant is more important," Berry said. "A lot of boaters like to go boating for the day, and when they come back, they go into a restaurant. Having a restaurant attracts more boaters."
Restaurants are an integral part of the marina business, said David Filler, head of Florida for Dallas-based Suntex Marinas, which has seven marinas in the state. It acquired Bayshore Landing in Miami's Coconut Grove, a development that includes Monty's, Sushi Maki and Starbucks. It's also conducting a $70 million renovation of the Las Olas Marina in partnership with the city of Fort Lauderdale, a project that will include two waterfront restaurants by the time it opens around September 2023.
Suntex Marina Investors LLC
"We believe the marina business is a hospitality business and having restaurants is an important component of that hospitality experience," Filler said. "Whenever we look at a marina we look to figure out a solution to provide a food and beverage component."
For marinas that have restaurants when they are acquired, Suntex looks to enhance the eateries with higher-quality food, he said. It's also important that the larger marinas that host megayachts with big crews have nice facilities so crew members can dine, work out and do laundry, he said.
The new Regatta Harbour marina in Coconut Grove will feature 100,000 square feet of retail and restaurants when completed. Miami-based Treo Group has completed the retail space there, and the restaurant space should be done in 2022.
Treo Group
"With the recent uptick in boat sales spurred by Covid-19, there is a high demand and shortage for sites that combine marina and lifestyle components," Treo Group principal Eddie Garcia said.
Reconfiguring a marina site to include retailers and on-site boating services, such as fueling and cleaning, increases its occupancy and profitability, as it provides patrons with a location that offers more than just boat storage, he said. For this reason, curating a dynamic tenant mix that caters to various boaters' needs was an important part of developing Regatta Harbour, he added.
Jock Fistick / South Florida Business Journal
A great restaurant can make a huge difference for a marina, said Victor Ballestas, principal of Miami-based Integra Investments, which includes marinas in its commercial real estate holdings. He first bought a marina in Islamorada because he loved boating, and now it's a big business for him.
When Ballestas set out to enhance the Islamorada marina, he sought to find the best restaurant tenant possible, he said. "A restaurant brings a lot of value to a marina because people want to come off their boats and [have] a beer and something to eat."
Many patrons told him the Square Grouper was the best restaurant in the Keys. It took four or five visits to speak to the owner, who eventually agreed to open a second location at the Islamorada marina. It made both the marina and the new restaurant very busy and allowed the marina to charge higher dockage rates, he said. Integra sold the property to Safe Harbor Marinas in February.
Integra
In September, Integra bought the Sea Isle Marina near downtown Miami. While it doesn't have enough upland space for a full restaurant, Ballestas wants to introduce food and beverage service there, with deliveries from shore directly to the boats, and grab-and-go options for boaters refueling their vessels.
"Every time we go into a marina, the first thing we think of is food and beverage," Ballestas said.
Other marinas have built-in hospitality elements. For example, Orlando-based Tavistock Development Co. still operates the marina at the Pier Sixty-Six Hotel & Marina in Fort Lauderdale while the hotel, restaurant and conference center undergo major renovations.
Tavistock
In 2020, Tavistock installed a floating dock that can handle vessels of up to 400 feet. It will start vertical construction of the hotel in the fourth quarter of this year. Within two years, the new restaurants, hotel, residential units, retail, office space and a pool deck facing the marina should be completed.
"Whether arriving by land or sea, the hotel property will include a wide variety of indoor and outdoor dining options and, of course, the famous Pier Top lounge," Tavistock VP Jessi Blakley said. "We are also planning several waterfront shops and restaurants along the Pier Sixty-Six Marina Promenade, which will be easily accessible for marina guests."
By Brian Bandell 
South Florida Business Journal