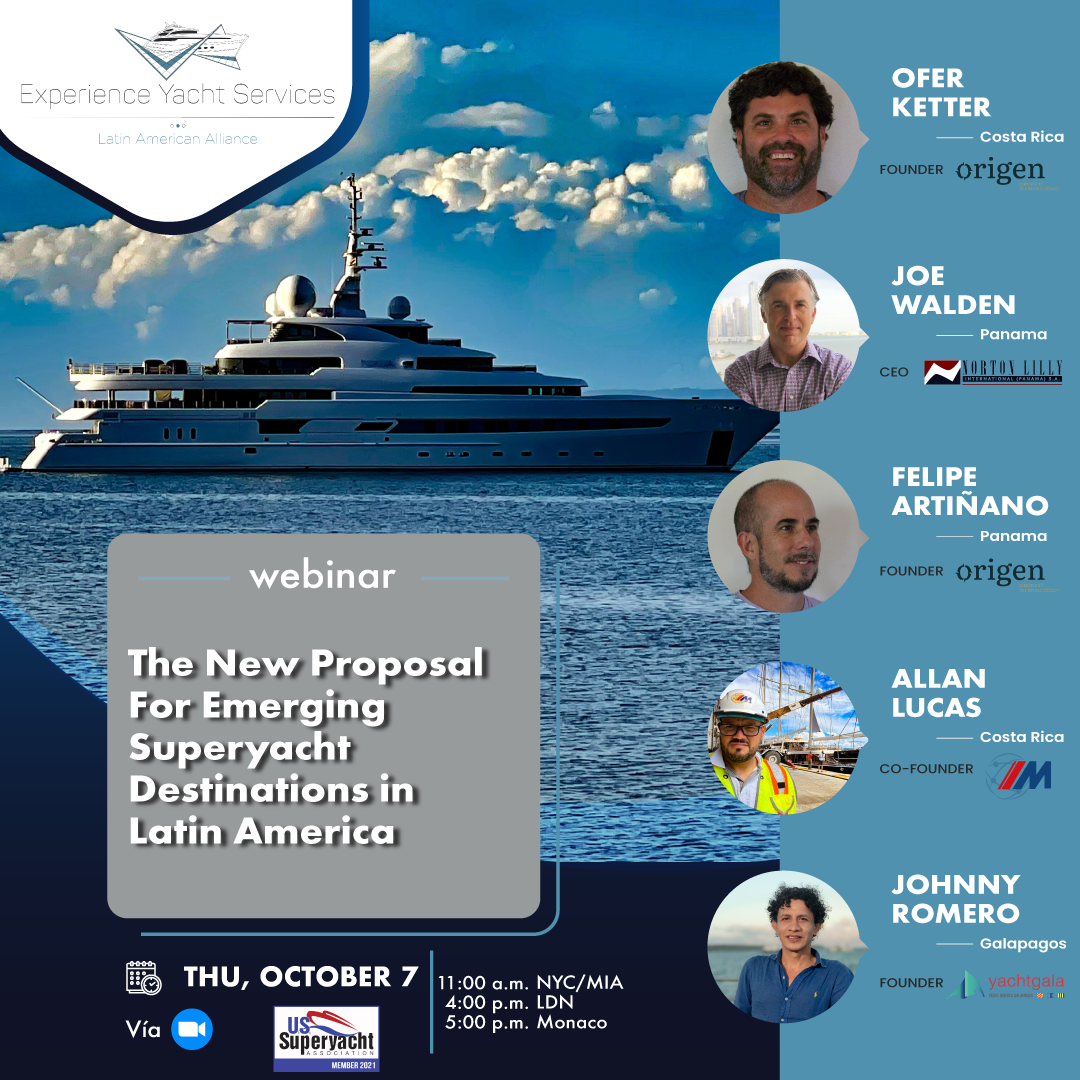 Latin America is now, more than ever, a natural yachting paradise. Accessible year round, a short hop via the Panama Canal from the Caribbean or a straight shot across from French Polynesia, and with safe, predictable weather patterns, this area of the Pacific is yours to navigate. The Galapagos Islands, Panama and Costa Rica stand out from the crowd as unmissable for any megayacht itinerary, and Experience Yacht Services (EYS) are here to make your visit to them exceed even the highest of expectations.
The Superyacht Experts.
"EYS works so well because we are all companies with high standards of quality and knowledge in our fields, and of the countries in which we operate." (Allan Lucas, Maritima Interoceanica CR)
We are a dynamic alliance of five specialist businesses who, by joining forces, encompass the vast portfolio of technical, logistical and experiential resources needed to manage the unique demands of a modern megayacht. As suppliers of both yacht agency and itinerary design services for Panama, Costa Rica and the Galapagos Islands, we provide captains and owners with creative and efficient solutions to meet any and every requirement. Our combined years of experience give us an expertise above and beyond our competitors, allowing us to offer bespoke and wide-ranging support and assistance of the highest standard.
At the very heart of EYS are five business leaders who have a deep passion for and broad knowledge of yachting. They, Ofer Ketter and Felipe Artinano of Origen Escapes, Allan Lucas of Maritima Interoceanica CR, Jonathan Zelcer of Truly Panama, Joe Walden of Norton Lilly International (Panama) and Johnny Romero of Galapagos Yacht Services, have not only bought together their expertise as industry-leading yacht agents and itinerary designers but a shared set of values; excellence, creativity, integrity, a client-first mentality, and to be leaders in sustainability and protectors of the environments in which EYS works.
What we do.
"EYS brings a unique perspective to the yachting world in which we are able to harness the collective experience and vision of our alliance partners in order to showcase and promote our region." (Joe Walden, Norton Lilly International (Panama))
In short, we provide the highest level of yachting logistics and create adventure-filled, bespoke itineraries for superyachts visiting Costa Rica, Panama and the Galapagos.
In Panama, Norton Lilly International covers Panama Canal transits and yachting logistics while Truly Panama curates meaningful and high-quality itineraries. In Costa Rica, Maritima Interoceanica CR handles port agency services and logistical support while Origen Escapes designs epic itineraries and unique experiences. In the Galapagos Islands, Galapagos Yacht Services provides both yacht services and tour operations.
From permits and provisioning to incredible experiences on land and sea, with us, every service is covered. We have a broad knowledge of the requirements, wants and needs of yacht captains and owners and pride ourselves on our flexible approach to providing for them. Working with all five partners, you'll receive fully integrated services throughout your time in Costa Rica, Panama and the Galapagos Islands, but each partner remains an independent entity, so you are able to choose the most appropriate partner/s to fit your needs. There are no obligations to work with all or any other partners, no commissions, and all your dealings will be with each business directly.
Our destinations.
 "We felt it was time to put this incredible region, with three amazing yachting destinations, officially on the superyacht industry map." (Ofer Ketter, Origen Escapes)
Costa Rica, with its 800 mile coastline dotted with safe, scenic anchorage sites, offers endless exhilaration, from swimming with mega pods of dolphins to adventuring through rainforest, volcanoes, rivers and valleys in an incredible assortment of ways.
Panama is a continental crossroads where, connected by the Panama Canal, two vast coastlines offer a multitude of marinas and anchorages from which to explore a land of paradise beaches, life-filled rainforest and the age-old traditions of indigenous communities.
The Galapagos' isolated archipelago of islands, islets and rocks hide unique and fragile ecosystems. Anchoring in the wildlife rich waters gives access to otherworldly volcanic landscapes and the curious creatures who call them home, many of which are found nowhere else in the world.
Together, our three amazing destinations form a triangle of yachting hotspots, each distinct and sublime in its nature, culture and the experiences it provides, each crying out to be explored.
***
"…Costa Rica, Panama and the Galapagos are prime untouched superyacht cruising areas, and we want the entire industry to know it!" (Ofer Ketter, Origen Escapes)
Under the EYS banner, each of our five partners is working to open up the waters of Latin America to superyachts and megayachts, to highlight both the extensive infrastructure already in place and unparalleled beauty of the region.
We look forward to welcoming you aboard!